Raisa Gorbachev: the first and only Soviet First Lady
In the mid-1980s when the Soviet Union and the US only began to shed the state of the Cold War, the appearance of the new Soviet leader Mikhail Gorbachev was instrumental in the warming in the relations between the two super powers. He was radically different from his predecessors, primarily his by his openness and readiness for a dialogue. In addition, his wife Raisa Maksimovna Gorbachev started escorting him on his foreign visits.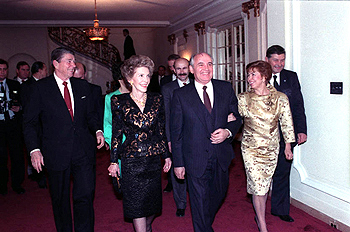 Ronald and Nancy Reagan, Mikhail and Raisa Gorbachev OFF TO DINNER
Western society was used to the wives of the Soviet leaders always staying in the shadow. And it was something of a shock to see next to the secretary general of the Communist Party's Central Committee an educated, communicative and well dressed woman. It was also unusual for the citizens of the USSR. By the mid-1980s the arms race seriously depleted the economy of the country, the quality of life was decreasing, while the word "deficit" became a stamp. At that time the appearance of a beautiful woman wearing expensive clothing caused even greater dissatisfaction of the people, as later recalled Eugenia Vodolazskaya, a writer:
"Society could hardly conceal its envy and irritation for Raisa Maksimovna. Many outlandish rumors circulated. Women hated her for her expensive and "foreign made" clothing. (Despite the fact that almost all her life she ordered clothes from Soviet tailors, and only in later years bought ready-made clothes). Men hated her for excessive "independence", for "putting on airs".