Boris Asafyev - Biography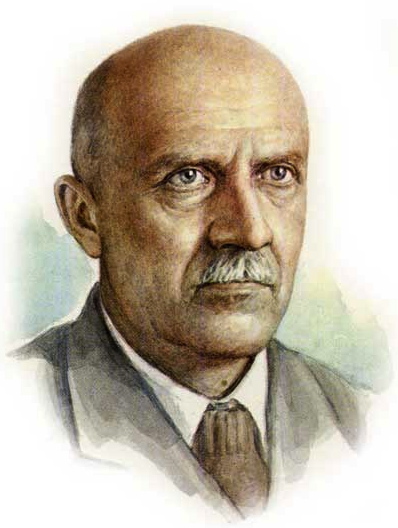 Russian musicologist and composer (b. 17/29 July 1884 in Saint Petersburg; d. 27 January 1949 in Moscow), born

Boris Vladimirovich Asafyev

(

Борис Владимирович Асафьев

), also known by his literary pseudonym

Igor Glebov

(

Игорь Глебов

)

.
The son of a humble official, Boris had a rather dreary childhood, marred by poverty. His mother, a peasant's daughter, had to take on sewing jobs in order to make ends meet. However, when Boris's love of music manifested itself very early on (aged 5 or 6, he was already improvising on the family's piano), his father began taking him to concerts in Saint Petersburg. As a child he often spent the summer months near Pavlovsk, where his grandfather was a night-watchman at the palace, and Boris would regularly walk the four kilometres from their hut to the Pavlovsk railway station to attend the free concerts there. Thanks to these he had the chance to hear a wide repertoire of music, but his first love was Tchaikovsky, as he later recalled: "In early childhood the first music that caressed me was Tchaikovsky's: my mother would hum to me Lullaby in a Storm [No. 10 of the Sixteen Songs for Children]. The evenings at the Pavlovsk station near Petersburg, unforgettable for so many Russian musicians of former generations, trained my ear, especially with regard to Tchaikovsky's music" [1]. Boris also remembered how in the autumn of 1893 the long cortège at Tchaikovsky's funeral had processed past their house on Nevsky Prospekt.
In the autumn of 1894, Boris began attending a gymnasium in Saint Petersburg, but soon the family's economic situation meant that he could not carry on there, and, two years later, thanks to a relative he was sent as a state-aided pupil to a gymnasium in the seaport town of Kronstadt. As a boarder at the school he was very homesick at first, but on Sundays he was often invited to the houses of school friends whose families lived in Kronstadt, and as a result his cultural horizons were widened considerably. Recognizing Boris's musical abilities, the school bought a piano so that he could practise in the evenings. During his time in Kronstadt he was in high demand as an accompanist in various houses and also learnt to play the flute. After taking his school-leaving exams in the spring of 1903 he returned to Saint Petersburg, eventually enrolling, in September, at the Faculty of History and Philology at the city's university, even though his dream was to become a composer.
In March 1904, he finally mustered the courage to call on Rimsky-Korsakov. The great composer, whose lyrical opera May Night was a lifelong favourite of Asafyev's, tested the young man's knowledge of Russian music and listened to the piano pieces and songs that he had brought with him. At the end of this meeting Rimsky-Korsakov encouraged him to apply to the Saint Petersburg Conservatory.
A few months later, in August, another important encounter took place when he met Vladimir Stasov. The veteran champion of the "Mighty Handful" invited Asafyev to visit his dacha every Sunday, where they would go through Glinka's Ruslan and Lyudmila and other works on the piano, and he gave Asafyev the opportunity to work under his supervision at the Imperial Public Library. At Stasov's dacha he also met Glazunov, the painter Ilya Repin, Maksim Gorky, and the great bass Fyodor Chaliapin. Stasov's enthusiasm and vitality had an invigorating effect on Asafyev, who would later describe these years as his "artistic university". In particular, he gained first-hand experience of the traditions of the "Mighty Handful", because Stasov introduced him to the house of Aleksandra Molas (née Purgold, 1845–1929), the sister of Rimsky-Korsakov's wife Nadezhda. Musorgsky and Borodin had composed many of their songs for Aleksandra, and the young Asafyev had the chance to accompany her on the piano as she performed these and other vocal works of the "Mighty Handful" at her soirées. Stasov also entrusted him with the task of copying the score of Musorgsky's comic opera The Marriage.
In September 1904, Asafyev, while still continuing his studies at the History Faculty, passed the entrance exams at the Saint Petersburg Conservatory and was awarded a full scholarship. It was also during these exams that he met the 12-year-old Sergey Prokofiev, who became his fellow student and friend. At the Conservatory Asafyev studied in the theory and harmony class of Anatoly Lyadov and in the instrumentation class of Rimsky-Korsakov. Another fellow student of Asafyev's was the composer Nikolay Myaskovsky, with whom he played through many 4-handed piano arrangements. Throughout 1906 Asafyev worked on his children's opera Cinderella, the idea for which had been suggested to him by Stasov. The latter's death in October that year was a bitter blow for him, but in the winter of 1906/07 he did succeed in staging Cinderella with a cast drawn from the children of acquaintances, as well as with the assistance of Vaslav Nijinsky, then in the final year of his studies at the Imperial Ballet School, who choreographed the dance numbers in the opera. Although a revised version of Cinderella would later be performed in music schools and clubs, this opera, like all of Asafyev's subsequent works in that genre (11 operas in total), never made it onto the repertoire of a professional theatre, much to his disappointment. In 1907 he composed another children's opera, The Snow Queen, based on Hans Christian Andersen's fairytale, and this was premièred at a Saint Petersburg music school in January 1908, again with Nijinsky responsible for the dances. Shortly afterwards, though, Nadezhda Rimskaya-Korsakova told Asafyev that her husband was angry with him for daring to compose operas and have them performed in public without his teacher's permission!
Asafyev obtained top grades in his graduation exams at the History Faculty in the spring of 1908, but this success was clouded by the death of Rimsky-Korsakov in June. For, despite his disapproval of Asafyev's unauthorised composing, some months earlier he had hinted that he would soon allow him to join his free composition class. After Rimsky-Korsakov's death Asafyev decided to leave the Conservatory without completing his course, although Glazunov persuaded Lyadov to allow Asafyev to come to his house for private lessons. Glazunov also helped Asafyev to find occasional work as an accompanist at the Conservatory. It was just enough to live on, and in April 1909 he was able to marry Irina Stepanovna Khozyasheva (1885–1969), whom he had first met as a gymnasium student in Kronstadt.
More here.
Boris Asafyev - The Fountain of Bakhchisaray