Nijinsky (Book by Lucy Moore)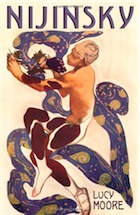 Vaslav Nijinsky
was almost immobile at the last moment of his real life. Only his expressive hands moved, turning magazine pages as he waited outside the office of a pioneer psychiatrist at a Zurich asylum. After a consultation the doctor privately announced to Nijinsky's wife, the incorrigible Romola de Pulszky, that her husband was incurably mad. Nijinsky already knew his condition; he had kept an inventory of his own disintegration in a journal. As De Pulszky came out of the office, he said – if she is to be believed, which she usually isn't – "You are bringing me my death sentence." Which she was – there followed 31 years of schizophrenia with rare lucid episodes. He was never himself again.
Fini
. Just like that. Page 213, within days of Nijinsky's 30th birthday in 1919, and the
biography
is almost all over but for a coda on a fading legend. Half his short life had been in training, first as the infant-phenomenon son of dancers scrabbling around the Russian provincial entertainment circuit – here the boy begged a tap lesson from a black American duo, there he fell into a circus animal act, or taught himself piano. Then his mother twanged every string to get him into the splendid Mariinsky theatre school in St Petersburg, a rigid classical grind, in the hope he might do well enough in ballet to retire on an imperial pension at 36. Nijinsky was a byproduct of pre‑revolutionary Russia, a culture wide open to influences western and eastern, high and low.
The energy from his lowly childhood elevated him. As a student, he was cast by the choreographer Mikhail Fokine, who thought ballet should be a revolutionary art rather than merely court cabaret and an academy for grand-ducal mistresses and princely rent-boys. He wanted a male dancer with attitude to redress the sexual balance on stage – not a safe pair of hands to loft a prima ballerina, but a power. Nijinsky was certainly that. Anna Pavlova soon refused to partner him because audiences wanted to see him as much as her, and when Fokine defected to Sergey Diaghilev's Ballets Russes in 1909, Nijinsky, aged 19, went too.
More here.